Best Selling Speedco Products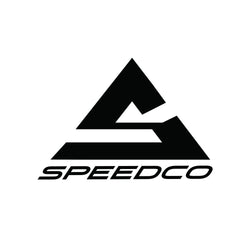 The Speedco Brand
With just one thought in mind, Speedco was reborn. Be the best. Sounds simple, right? But defining what that means and then achieving it through cutting edge design and critical follow through takes more dedication and hard work than many companies are willing to give. Speedco, however, remains undaunted in their pursuit - and both the M2 and Velox frame lines stand as the critically acclaimed results of their passion.
If you've been looking for the foundation to a new race machine, look no further. Choose a Speedco and experience what many riders consider to be the ultimate in speed, precision and quality. Whether choosing Alloy or Carbon, Speedco offers a full range of sizes plus choice of Disc or V-Brake fitment options.
If you're finding yourself overwhelmed with the range of choices and need help making a decision, please don't hesitate to get in touch through our CONTACT US page. And if you're aren't already a dealer/distributor and would like to become a wholesale partner, please visit our DEALER APPLICATION page.